EMS Oy in English
Electrodischarge Machines Scandinavia (EMS Oy) is a precision machining workshop located in Janakkala in southern Finland. EMS is Finland's second largest EDM wire cutting contractor.
EMS manufactures precision products including high quality components, tools and moulds.
Our expertise is based on almost 30 years of successful experience in the field of electrical discharge machining (EDM).
"We have high production capacity, and our customers have greatly appreciated our fast delivery times," say the co-founders of EMS Oy, Jari and Eeva-Liisa Pirttinen.
EMS's production capacity also comes into its own when it comes to demanding wire cutting tasks. Our five EDM wire cutters create high quality precision machined goods rapidly and efficiently.
Our key strengths include rapid delivery times and competitive pricing.
"We manufacture quality products even to a precision of a hundredth of a millimetre. We have an excellent set of machines, and our professionalism has been highly rated ever since we started working with EDM wire cutting in 1984," says EMS's CEO Jari Pirttinen.
Contact info
Address: Patteritie 3 14200 Turenki Finland VAT: FI09848403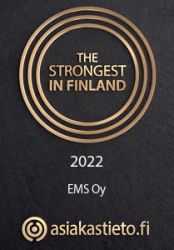 Send a message